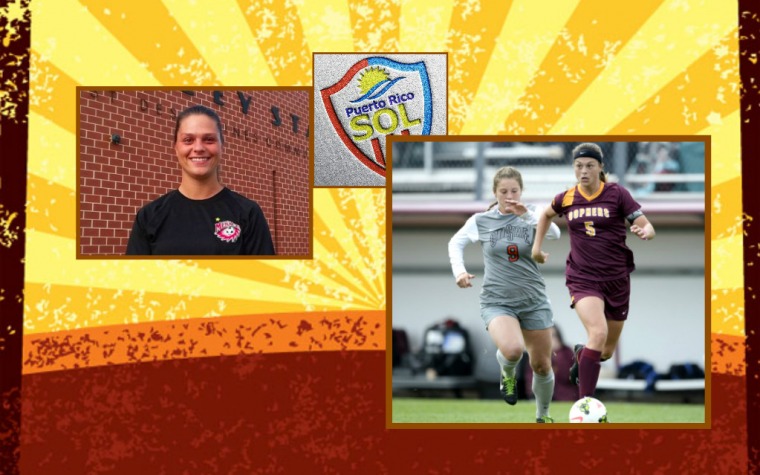 FUTBOL FEMENINO
jueves, 09 de agosto del 2018
FOTOS (Suministradas)
La futbolista Haley Helverson fue compañera universitaria y amiga de la voleibolista puertorriqueña, Daly Santana, en Minnesota. Ahora, vendrá a jugar a la tierra de Daly...
Luego de una sobresaliente carrera en el soccer colegial con las Gophers en la NCAA, Haley viene de jugar fútbol profesional en Suecia y en la WPSL de Estados Unidos.
Helverson es el nuevo fichaje del Puerto Rico Sol, club de fútbol femenino semi profesional con sedes en Fajardo y Mayagüez. Tiene 24 de edad y es defensa. "Outside left back," especificó Haley a QuePalo.com
Haley y su hermana menor, Libby, vienen de jugar juntas con el Des Moines Menace de la Women Premier Soccer League (WPSL) en Estados Unidos.
Scoring a goal together has been the plan for years, now it's finally come true for @LibbyHelverson and @Haley_RoseBud thanks to @MenaceSoccer. This is a season they'll never forget. pic.twitter.com/hDYCuol9IV

— Nick Tabbert (@KCCITabbert) July 3, 2018
« HÉCTOR VÁZQUEZ MUÑIZ, QuePalo.com »
When did you end your college career at University of Minnesota?... Did you meet Puerto Rican volleyball player and former Minnesota Gopher, Daly Santana?
HALEY HELVERSON, defensa Puerto Rico Sol
"My college career ended fall 2015 and I graduated spring 2016. Daly and I are great friends, we spent a lot of time together because we pursued the same degree. She's an incredible volleyball player and easily one of my favorite athletes to watch at the U."
« HVM »
What does coming to Puerto Rico Sol means to you?
HALEY HELVERSON
"Coming to Puerto Rico Sol is exciting simply because of the mantra #worldclass. This slogan itself proves how much passion this team has for the game, and the level of competition is going to be intense, not just in games but also at training every day...
I have heard about all the great accomplishments Shek has achieved thus far as a coach and I have so much respect for him. Although I don't know any of the players on the team yet, they seem to have strong resumes and I am thrilled to be part of such a strong cultured squad."
« HVM »
How was your experience playing with Östersunds DFF (Sweden) and Des Moines Menace (USA)?
HALEY HELVERSON
"My time in Sweden was great! The league and level of play was fun and challenging because it's a different style than what I'm used to. Being in a completely new country and setting was amazing because I love meeting new people and experiencing other cultures...
Playing for the Des Moines Menace is extra special for me because it's my hometown team but also has been exciting because there are a few international players thrown into the mix every year as well as young college players and veteran local girls and it's been a blast. The game is always changing and I'm still learning so much from these girls and the coaches while competing against some of the top teams in the WPSL."
Como dato curioso, el padre de Haley, Scott Helverson, es árbitro de 'football', del otro 'football', el de la NFL. Por cierto, papá Halverson fue uno de los referees del Super Bowl de 2008 entre los New York Giants vs New England Patriots.
882240495156463
on
piZap.com
.
---
---
---