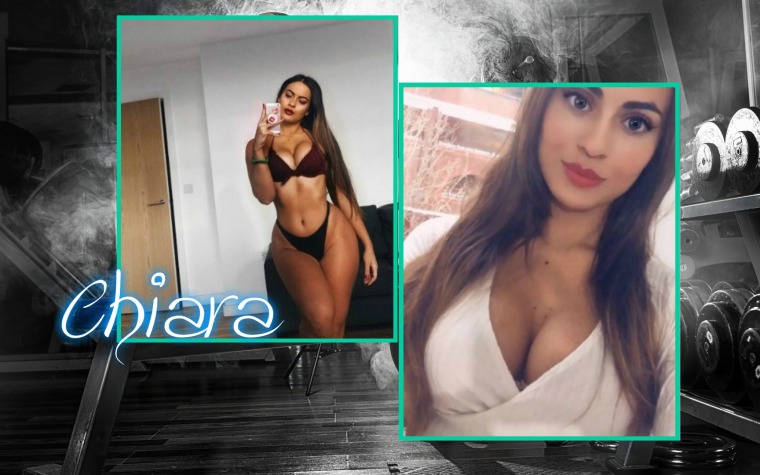 FITNESS FEMENINO
martes, 26 de febrero del 2019
FOTOS (Pugliesi)
A edad universitaria ella tuvo que mudarse de Italia a Inglaterra, donde los primeros años tuvo que vivir sola en un barrio peligroso en Manchester. Le fue "sucio difícil" en un principio, aunque hoy día no hay que la saque de Inglaterra
Ella es Chiara Pugliesi, una de las Fitness Model & Coach más solicitada en las redes sociales. Italiana, natural de donde era oriundo el 'El Padrino' de la mafia, Vito Corleone. Fue víctima de bullying por 'nerda', y actualmente muchas mujeres le envidian sus nalgas.
Asegura tener un ejercicio que es mucho más efectivo que los squads para desarrollar los glúteos.
Estudió Business Enterprise & Marketing en Manchester Metropolitan University.
Aunque trabaja en una oficina, su pasión es el Fitness. Poco a poco ha ido haciendo la transición, y por medio del internet ha ido creando una base de clientes a quienes les vende sus rutinas de ejercicios que la han llevado a esculpir su escultural cuerpo.
No empece ser italiana y residente en tierras inglesas, a Chiara le encanta la música en español, más es fanática de 'Yankee, 'Bunny y Ozuna. También de Wayne Rooney, aquel que una vez jugó en el Manchester United..
Los invito a conocer la interesante historia de Chiara, desde Europa, en exclusiva para QuePalo.com,
. .
«« HÉCTOR VÁZQUEZ MUÑIZ, QuePalo.com »»
Are you an Italian living in England? Tell me about your whereabouts, your background, and how's being in Manchester?
» CHIARA PUGLIESI, Fitness Model and Coach «
"I am originally from Sicily, one of the biggest Italian Islands. I moved to Manchester when I was 17. It was a scary at first as I was on my own in a foreign country and I didn't know anyone or anything. I remember I ended up living in one of the roughest areas of Manchester because I didn't know the area very well. It was tough at the beginning but I would never go back,..
I had a couple of really bad experiences that I was too young to be involved in and with no family around but at the end I am grateful for everything that has happened because it made me who I am today. 'What doesn't kill you, makes you stronger' is my daily mantra...
Coming to the UK was my biggest dream and I was so determined to achieve it that I also learned English by studying books on my own, on the internet and watching lots and lots of films in English (no subtitles as that way you force yourself to really listen and pay attention). Manchester is like a second home to me now. I love everyone and everything and I built my life from scratch here."
«« HVM »»
Have you played in any sports, maybe volleyball, track and field, swimming, or football?
» CHIARA PUGLIESI «
"To be completely honest with you I am not very great at sports. I am more of a static weight lifter. I like to pick up and lift heavy things but I am very clumsy when it comes to sports. I always use to skip my PE classes in high school, funny enough! I like watching sports more than playing them really."
882240495156463
on
piZap.com
«« HVM »»
Talking about football, which one do you like the most: Manchester United or Manchester City? Who's your favorite football player?
» CHIARA PUGLIESI «
"If I had to pick, I would definitely go for Manchester United. (Wayne) Rooney is my hero and I even have a little teddy bear with the Manchester United logo."
«« HVM »»
What do you do for living?
» CHIARA PUGLIESI «
"I am currently working for a public institution, specialise mostly in the marketing aspect and event planning. However, my dream is to be able to work on my business full time. I love helping women feel strong and beautiful. I have always wanted my job to really have a positive impact in the world...
I have always had a gut feeling that my real place is the fitness world. I have a website at the moment where I sell my workout plans and I just love the feedback and how happy my girls ( and guys) are when they achieve their body goal. Their success is my success."
«« HVM »»
What kind of music do you like the most for gym training?
» CHIARA PUGLIESI «
"I mostly listen to Hip Hop R&B, but I love Spanish music too, so I would listen to many Latino artists too. I love Ozuna, Bad Bunny, Daddy Yankee, Enrique Iglesias, Yandel, J Balvin & Maluma..
When I need that extra motivation though, I tend to listen to motivational speeches on YouTube. It sounds crazy but those really give me the strength to lift a heavy weight or to do an extra one rep or set."
«« HVM »»
"I see you did an incredible physical transformation. I want to write about that, and let people know about this wonderful story. How was it?
» CHIARA PUGLIESI «
"My fitness journey started from the very bottom. I used to suffer from eating disorders and used to get bullied at school for being nerdy. In my life, I have always put 100% so even at school I was trying to study hard not because I was a nerd but because I wanted to achieve the best. Unfortunately, not a lot of people have your same vision so I used be targeted at school because of my looks and because I was a 'nerd' to them....
Therefore, I thought that maybe, If I could look like those skinny cool girls, I would have been accepted. So, I started skipping my meals and losing more and more weight without realising I was losing too much weight. At that stage, I started getting ill and ended up to the hospital where the doctor told me that if I had continued like this I would have damaged my health permanently..
Also, if I wanted to move to the UK, I had to make sure I was healthy enough to live independently. I started eating more and slowly by slowly I started gaining weight. When I moved to Manchester, I joined the gym and I still remember how I felt the first day that I have ever stepped into a gym. I was looking at these fit people around shocked and I felt so intimidated I didn't even want to have a free session! It is incredible the type of influence you can have on someone when you are looking positive and strong so be proud of every little achievement you have made!...
These people inspired me to be who I am today and for this, I will forever be grateful. Their results made me believe that I could be strong and feel confident too. So I started watching YouTube videos, started reading lots of books and researched so much on muscle building and made mistakes, a lot of mistakes and I still make a few, but the best thing about mistakes is that you always learn from them...
I started with not even being able to lift 10Kg to being able to hip thrust 200Kg today ( tip of the day, hip thrusts are the number one scientifically proven exercise for glute building. If you really want to grow your glutes don't just do squat, focus on hip thrusts instead!!). It takes time, it takes effort but if you don't push yourself every day, if you don't get out of that bubble, you will never achieve great results. I started adding more plates to the bar and today this is what I can lift. Don't get me wrong I know I still have a lot to learn and I want to get stronger at other exercises too but this is a journey that will never end for me because it saved my life."
882240495156463
on
piZap.com
«« HVM »»
Can you mention the best exercises to get stronger and bigger glutes and legs?
» CHIARA PUGLIESI «
Definitely Hip thrusts!! Squats are mistakenly known to be the 'greatest booty building exercise' but they are not! Squats are definitely good as a compound movement because they engage your core, arms etc as well but do not just rely on them when it comes to building a booty! It has been scientifically proven that hip thrusts give a maximum activation to your glutes (Bret Contreras, 2018)...
In fact, this is the exercise where I feel the strongest at and have always worked primarily on building my strength on them rather than squats. I would also recommend using the abduction machine too as the abduction engages the 'outer side' of your glutes too giving them a three-dimensional shape. I also do other isolation exercises, which focus more on the glutes than legs. I already have quite thick legs so I prefer doing isolation exercises for my booty more but obviously that is subjective to what each person prefers...
If I could give a tip to those that want to focus on the booty, it would be to make sure you activate / warm up before your actual heavy session. That way you will get your glutes more engaged during your exercises. I like to use resistance bands for this..
Remember if you are warming up you need to use a light weight or not weight at all as you need to activate your glutes, that's why I like to use resistance bands. After that, you need to really push yourself and lift as heavy as you can (without injuring yourself of course). I would say, do a weight where you can't do more than 6-8 reps...
Of course, in order to increase size you need to be able to eat enough calories. After a good heavy workout, you want to make sure you eat enough protein but also carbs as they will give you energy. After a heavy workout, your body will continue to burn a lot of calories even after you have finished your session! Therefore, you need to make sure you eat enough or your body will detract energy from what you already have in your body and you won't grow. Knowing what to eat and when to eat it, is essential if you want to gain size in the right places."
«« HVM »»
Being honest, tell our readers how good and important can some exercises could be for a better sex life performance.
» CHIARA PUGLIESI «
"Yes exercises can also improve your sex life as in general you will get stronger and will also gain flexibility and greater stamina. Also, physical activity can increase the levels of testosterone which may boost sex drive."
«« HVM »»
Your website, what's about?
» CHIARA PUGLIESI «
"You can find my website on www.chiarapugliesi.com where you will be able to access to my booty plans. My booty plans contain scientifically proven information on glute building along with my workout plans and images showing how to perform every exercise in detail. Every workout has a description with special tips on how to really get your glutes on fire. It also contains a full meal plan with a recommendation of foods that promote fat loss. A supplement recommendation and a motivational part which will keep you motivated during your workouts...
I also offer 100% customer support after you purchase the plan, meaning that you can get in touch with me any time for any future extra question or any further tip FOR THE REST OF YOUR LIFE. Finally, you can also find my clients results if you scroll down the bottom and their feedback about my plan. I am proud of every single one of them and for me they will always take priority. My customers' success is my success always! Make sure you visit my website and check them out: www.chiarapugliesi.com "
«« HVM »»
Where do women have more interest, passion and commitment with gym and their physical wellness, in England or Italy?
» CHIARA PUGLIESI «
"I would say probably in England more than Italy. I am not very well seen in Italy I think. Where I am from women, tend to look skinnier and tend to give me bad looks and laugh at me for the size of my glutes but I don't care because I love the way I look today, I feel healthy and strong and that is what it matters. Sicily is a completely different world I would say."
«« HVM »»
Do you know Puerto Ricans or have ever heard about Puerto Rico?
» CHIARA PUGLIESI «
I don't know any Puerto Ricans unfortunately but I have definitely heard about the country and I would definitely love to visit it someday. I can speak a little bit of Spanish as Italian is very similar to it and I also listen to a lot of Spanish songs so I can fully understand it...
I am also originally from an island so I love every place with a beach really and with a warmer climate, I am definitely more of a beach person. I love getting a tan and having parties on the beach or on a boat. Definitely my dream life."
.
---
---
---