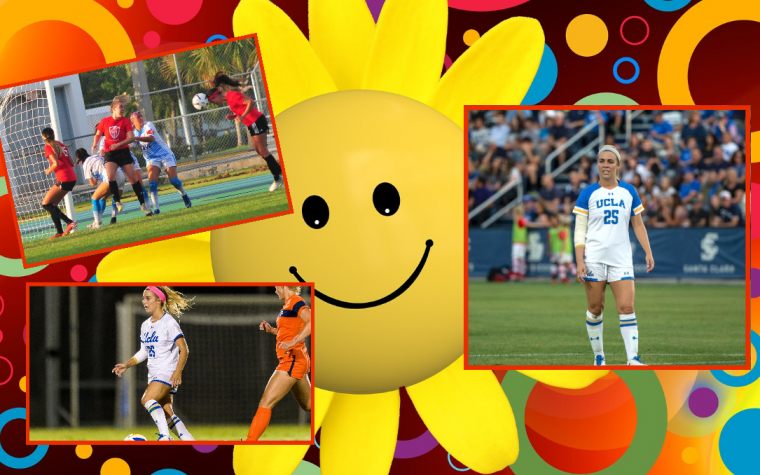 FUTBOL FEMENINO
martes, 19 de noviembre del 2019
FOTOS (Luís Daniel Sánchez y UCLA)
Jugó dos Finales Nacionales del soccer femenino de la NCAA (College Cup) con nada menos que UCLA. Luego se fue a España. Ahora, en Puerto Rico, debuta con un 'hat trick'. Lo próximo para ella: la National Women's Soccer League.
Les hablo de la cotizada futbolista del Puerto Rico Sol, Claire Winter, una de 5 jugadoras de Estados Unidos que refuerzan dicho onceno con sede en Mayagüez.
Claire se estrenó el pasado sábado en la Liga Puerto Rico de Fútbol Superior Femenino marcando tres goles ante el Bayamón FC.
882240495156463
on
piZap.com
"Claire is a box to box midfielder. Very feisty and technical. Extremely high work rate, " describió a QuePalo.com, AMANDA CROMWELL, su coach en UCLA.
Winter fue co capitana en su año Senior con su equipo universitario en Los Angeles, distinguiéndose además con el premio académico de su conferencia, el Pac-12 All-Academic honoree, por tres años consecutivos.
882240495156463
on
piZap.com
«« HÉCTOR VÁZQUEZ MUÑIZ, QuePalo.comm »»
Tell me about your high school and youth soccer before UCLA.
» CLAIRE WINTER, PR Sol «
"I am from Lafayette, California. it is in the Bay Area, a 25 minute drive from San Francisco...
I always knew I wanted to be a professional soccer player since I was 4 years old. I played at every level possible growing up. I grew up and played with my local club, my team was one of the best in northern California. Additionally most of my time was also spent doing ODP at state, regional and national levels. If I wasn't training with my club team I was playing on my own or with one of my many other teams...
I was also a member of many US youth national teams. I had club practice 4/5 days a week and I would take time out of every day by myself for over an hour. I never stopped playing because I wanted to be the best. #NoDaysOff."
882240495156463
on
piZap.com
[ MANGIARE ITALIAN TRATTORIA @ Calle Loiza en SJ (787) 979-2225 ]
«« HVM »»
How were you contacted to come to play for Puerto Rico Sol?
» CLAIRE WINTER «
"My assistant coach, Jenny Bindon, from UCLA, received an email from Shek (Borkowski, coach y gerente de PR Sol) asking if there were any players interested in coming to Puerto Rico, and she forwarded me the email...
I was looking for a 3 month season because I am going to play in the NWSL at the beginning of March. So a three month contract was incredibly ideal for me so I could keep up my soccer level as well as as my fitness. I thought this opportunity would be golden to get me prepared for the NWSL in terms of getting game time, and two a day trainings."
882240495156463
on
piZap.com
«« HVM »»
What was the most unforgettable moment at UCLA?
» CLAIRE WINTER «
"The most unforgettable moment at UCLA was winning the first ever national championship for the school my Freshman year. The team chemistry was incredibly cohesive and there was no way we were going to lose. I loved that every single player on the team contributed to the win. It was a team effort and we brought home the 110th national championship back to Westwood. It was pretty surreal (en su año Senior UCLA regresó a la Final -College Cup- perdiendo vs Stanford 2-3)...
Another cool thing about playing at UCLA was that every day you were pushed because you were playing the best players in the country day after day. My soccer skills and soccer intelligence improved tremendously just playing with my teammates every single day."
882240495156463
on
piZap.com
«« HVM »»
After UCLA, and before Puerto Rico, where did you play?
» CLAIRE WINTER «
"Right after I graduated in December 2017 I headed to Barcelona Spain and trained with a number of women's La Liga teams. i.e. Valencia, Levante, Albacete, and Espanyol. Eventually I ended up signing with RCD Espanyol for the 2018-19 season. Then at the end of the season I returned to the US in May 2019 and signed a contract with the Houston Dash of the NWSL for a few months. I am planning to return to Houston in March 2019 to play the entire NWSL (2020) season with them.
882240495156463
on
piZap.com
882240495156463
on
piZap.com
«« HVM »»
How has been this first weeks at Mayagüez, so far?
» CLAIRE WINTER «
"I have been enjoying myself I love the island and the people. I learned a decent amount of Spanish in Spain so it has been very fun bringing my Spanish back. Even though I am a little rusty and the Spanish is a little bit different then Spain Spanish haha...
Shek is a very intelligent coach and I admire the way he runs sessions and how much he demands and expects from his players. He makes his players want to play their absolute best for him and our teammates...
.
The stadium is unbelievable, right by the water. I definitely feel incredibly lucky to get an opportunity to play in such a grand stadium. The girls have been very welcoming and I can't be more thankful because team chemistry is one of the most important things and this team will win because we all get along and understand each players strengths and weaknesses.
.
---
---
---