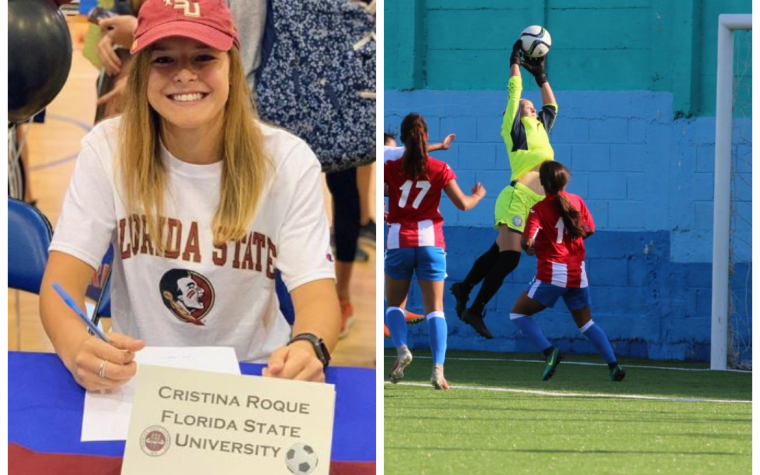 FUTBOL FEMENINO
miércoles, 18 de diciembre del 2019
Cristina Roque, portera del programa nacional de fútbol femenino de Puerto Rico, y graduanda de escuela superior, ingresará en enero próximo a Florida State University.

"I have been with my family celebrating. I am so excited to go to FSU and be there in that environment," manifestó Cristina Roque a QuePalo.com

Las Seminoles de FSU fueron las campeonas del fútbol femenino NCAA en 2018. Este año se eliminaron en 4tos de final en el College Cup nacional.

"The facilities are amazing and the soccer field is beautiful! They take care of everything, so it looks perfect. The coaching staff are great people who I am excited to play for for the next 4 years," relató la portera residente en Florida..

La cotizada futbolista es natural de Orlando, Florida. Allí juega para West Orange High School, y para el club Florida Kraze Krush.

Aunque aún algo indecisa, Cristina parece inclinarse hacia Terapia Física a la hora de escoger una carrera.

"For right now I am undecided but I will be looking into Physical Therapy."

La semana próxima vendrá a Puerto Rico a participar de los entrenamientos de la pre selección U-20 en preparación al pre mundial 2020 de esta categoría.

"I have received an email for the PR WNT U20 team for tryouts in December," enfatizó Roque.

.
---
---
---