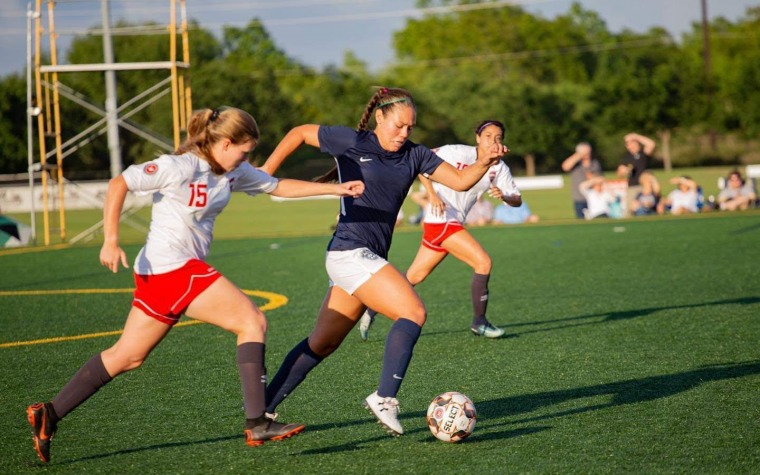 FUTBOL FEMENINO
viernes, 07 de junio del 2019
Su nombre completo es Diandra Victoria Aliaga Rodríguez. Tiene 22 de edad, y es una de las nuevas BoricUSA's que llega a reforzar la Selección Nacional Femenina de Fútbol de Puerto Rico que participará de sendos amistosos FIFA en Bolivia los días 13 y 16 del corriente mes.
Su elegibilidad para representar al TeamPUR viene por su abuelo materno
"My grandpa was Puerto Rican and that is how I am eligible to play for the Puerto Rican National Team. Rodriguez is my mothers last name, and it is my mothers father who is Puerto Rican." especificó Diandra Aliaga Rodríguez a QuePalo.com
Diandra, quien juega Delantera, nació en Virginia, pero se crió y vive en Texas. A la hora de competir en el fútbol internacional, Aliaga tuvo cuatro opciones, pues además de nacer en Estados Unidos, y tener un abuelo boricua, su padre es peruano, y su mamá nació en Panamá. Por fortuna para nosotros, ella decidió escoger a NuestraSelePR como su destino FIFA.
Diandra jugó soccer colegial NCAA con University of Texas Rio Grande Valley (UTRGV) de donde se graduó en mayo 2018, más hizo su estreno ese mismo año en el fútbol de clubes profesionales en la liga de Israel
882240495156463
on
piZap.com
[Rest. SABOR DE MÉXICO @ Camino Alejandrino, Guaynabo, y Lomas Verdes, Bayamón]
«« HÉCTOR VÁZQUEZ MUÑIZ, QuePalo.com »»
After doing college at UTRGV, how were you contacted to play pro at Israel.
» DIANDRA ALIAGA RODRÍGUEZ, TeamPUR FutFem «
"My coach at UTRGV found the opportunity for me to play professionally in Israel. The process was fairly quick and after graduating I was flown to Israel and signed a contract with Hapoel Ra'anana.
«« HVM »»
Can you describe how is women's soccer at Israel? Compare it with NCAA.
» DIANDRA ALIAGA «
"Women's soccer in Israel is more technical, compared to NCAA, where it's more about athleticism and physicality. Women's soccer in Israel is growing and the players there are fighting for equality, so I think there will be a lot of improvements."
882240495156463
on
piZap.com
«« HVM »»
And what about this new opportunity, this new experience for you to come to Puerto Rico, at FIFA level?
» DIANDRA ALIAGA «
"I'm very excited to have this opportunity. I hope to represent Puerto Rico well and help the team win games."
882240495156463
on
piZap.com
«« HVM »»
How was you contacted by to play for Puerto Rico... Who discover you from Puerto Rico, in the middle of Texas?
» DIANDRA ALIAGA «
"My university coach contacted the Federation for me, and has always helped me with opportunities to further my soccer career."
882240495156463
on
piZap.com
«« HVM »»
So, after finishing at Israel at the beginning of the year, you started playing at the United Women's Soccer?
» DIANDRA ALIAGA «
"Yes, I am currently playing for the Houston Aces. I first started with the Aces in 2016, then 2017, and now I'm back in 2019. "
882240495156463
on
piZap.com
.
---
---
---