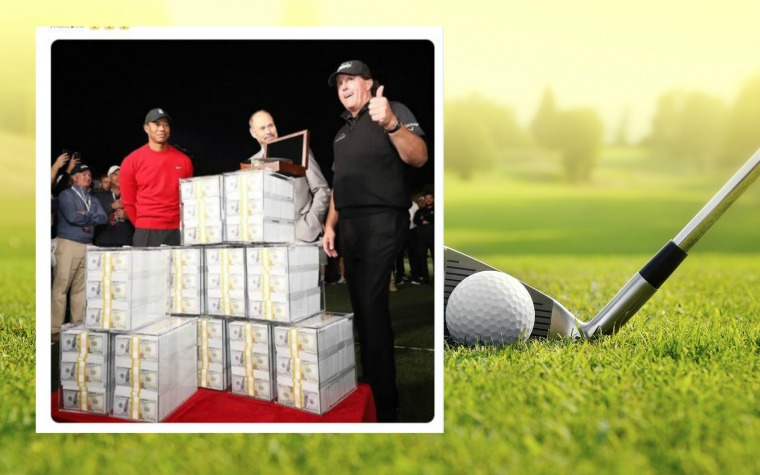 GOLF PGA TOUR
viernes, 23 de noviembre del 2018
Era un duelo, tipo boxeo, con una bolsa millonaria similar a las que vemos en una de esas noches grandes sobre el ring.
Phil Mickelson vs Tiger Woods por un premio de $9 millones.
El zurdo legendario vs el ícono que comercializó y masificó el golf.
18 hoyos no fueron suficientes, teniendo que jugar otros 4 adicionales a muerte súbita, tres de ellos a oscuras. No fue hasta el vigésimo segundo hoyo donde finalmente Mickelson derrotó a Tiger, llevándose el premio mayor. Fue necesario lograr un 'birdie' (completar el hoyo en un intento menos de lo asignado al mismo) para que Mickelson cerrara el mano a mano.
Además de los $9 millones, también se apostaron $200 mil por un lado (que los ganó Woods) y $600 mil por otro (a favor de Mickelson). Esos $800 mil jugados por ambos golfistas serán destinados a entidades benéficas.
HUMOR EN TWITTER
Las reacciones en las redes sociales no se hicieron esperar. Hay de todo, de manera que póngase un filtro, léalas y ríase un rato...
For anyone to say this is a racist country. I'm sitting in a bar in Alabama, and the whole place is rooting for Tiger over Phil. #

— Jeff Hill (@jhill42) November 24, 2018
My opinion. Once a Year. During turkey time. They do this again!!!!! This was epic for all the sports fans. #TheMatch

— 10 (@SimplyAJ10) November 24, 2018
I've got a couple things to say here...but it would be a bit long, and hard. pic.twitter.com/GwvEcVwgUC

— Casie Marie (@casiemaries) November 24, 2018
"Penis hole" pic.twitter.com/3n3xTKMmY5

— Raytown Public Radio Sports Desk (@RPRSportsDesk) November 24, 2018
LAST TIME TIGER WOODS LOST 9 MILLION INVOLVING A HOLE THERE WAS A DENNY'S WAITRESS INVOLVED

— Stu Feiner (@StuSource) November 24, 2018
Made the belt in Tiger's size, too small for Phil lol

"Not cool, guys" - Phil pic.twitter.com/4UCA8CBCVY

— HeavensBarstool (@HeavensHawkeye) November 24, 2018
I'm pretty sure tiger just scored a room number or a phone number from the girl on the right during #TigerWoods #LegendsNeverDie pic.twitter.com/bqFD3AIzrZ

— Rory W. (@raw0526) November 24, 2018
Los $9 millones triplican lo que Mickelson promedia en ganancias anualmente
Phil Mickelson prevailed in #TheMatch over Tiger Woods today, pocketing a hefty payday that tops anything he's ever made in a single year on the PGA Tour (as shown by this list) pic.twitter.com/ujLF6iwofI

— StatsCentre (@StatsCentre) November 24, 2018
.
---
---
---