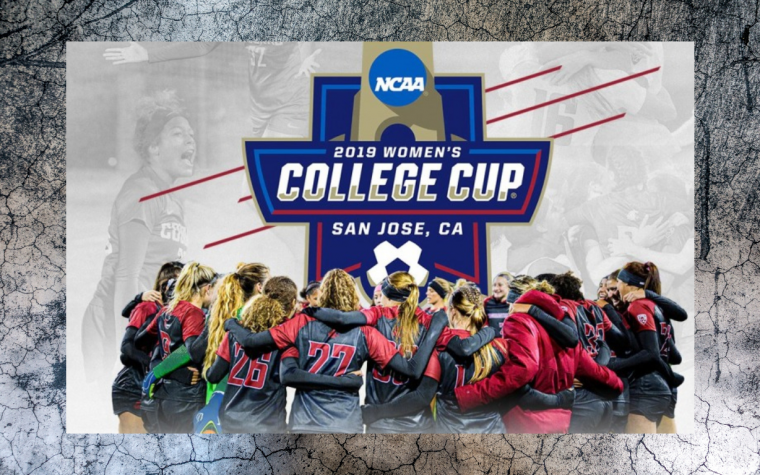 FUTBOL FEMENINO
martes, 03 de diciembre del 2019
Este fin de semana es el 'final four' del College Cup, el campeonato nacional de soccer femenino de la NCAA. San José, California es la sede.
Stanford vs UCLA, y North Carolina vs Washington State son los pareos semifinalistas para este viernes. La final se juega el domingo. Todos, con excepción de las Tar Heels de UNC pertenecen a la misma conferencia: la Pac 12.
"UCLA vs UNC is mi guess for the championship game," adelantó a QuePalo.com la defensa lateral de Delaware State University y la Selección de República Dominicana, LYNETTE UREÑA.
Un grupo de futbolistas del programa nacional de Puerto Rico, así como otras que vienen de jugar colegial en Estados Unidos y actualmente participan en la Liga Puerto Rico, comparten sus previas del College Cup. Igualmente lo hace un ex dirigente del TeamPUR.
882240495156463
on
piZap.com
SHEK BORKOWSKI, Coach & GM PR Sol / Ex director técnico PUR
" (Catarina) Macario's play merits a Hermann trophy this year ,and her supporting cast is top notch. Stanford has enough quality to beat a very good UCLA team...
.
Washington State had an incredible run this year but their Cinderella story will be ended by UNC. Stanford and North Carolina to win"
882240495156463
on
piZap.com
MIA THILLET, NC State University / TeamPUR
" It's hard to tell who will win. I think all four teams are solid and have many strengths! I think Stanford and Chapel Hill would be a fun game to watch:)"
882240495156463
on
piZap.com
«« MARCELA ROBINSON GARCÍA, La Salle University / TeamPUR
"I think these are great matchups and each team is really going to be tested. I think for the fans watching, they are going to see great speed of play and some of the best girls in college soccer. I don't have a favorite going in to the final four, but I'm excited to watch great soccer."
882240495156463
on
piZap.com
HALEY HELVERSON, University of Minnesota / PR Sol
"UCLA vs Stanford will be a blood bath! Pac12 rivalry will be a lot of fun to watch. UCLA is stacked all over the field, and everything is revolved around Catarina (Macario) at Stanford...
.
I'm really excited for the Washington State vs North Carolina game. Washington State has knocked off seeded teams the whole way and I expect nothing different going into this one. They have the momentum but nothing comes easy at this point and UNC has been in this position many times and have plenty of experience!."
882240495156463
on
piZap.com
»» IDELYS VÁZQUEZ, Virginia Commonwealth University (VCU) / TeamPUR
"It is not normal that 3 teams from the west coast get to the final four. Lately, the Pac 12 have been a very strong conference, and seeing 3 at the end and only one from the though ACC conference was not expected...
.
North Carolina has been one of the best women schools, normally either beating or getting beat by Florida State, the 2 times defending champions. But that crushing win that UCLA gave to Florida State, was surprising...
.
Given my love to the East coast I would love for the championship to stay on this side, but UCLA might be too good. I think the final might be a 2-1 UCLA over NC."
882240495156463
on
piZap.com
«« JULIANA VÁZQUEZ, University of Pittsburgh / PR Sol
"UCLA and Stanford have both had outstanding seasons thus far and continue to evolve as a team every match. UCLA and Stanford are both capable of winning this match. It is a toss up. What it comes down to is who is going to be the better team on Friday December 6th? The team that pays attention to the minute details,, and is clinical in their finishing, will win...
.
As far as UNC and Washington State, I expect UNC to win. UNC is such a powerhouse this year (and most years) and their talent depth is unmatchable. Washington State has not yet faced the high press style that UNC will deliver. Nonetheless, both matches will be very entertaining!"
882240495156463
on
piZap.com
CLAIRE WINTER, UCLA / PR Sol
"UCLA hasn't beaten Stanford since 2014, and that was the last year we won the Pac 12. I have a feeling that they have a fairly strong game plan and will do their best to deny (Catarina) Macario the ball. I think this team is capable of beating a very good Stanford team, and I can't wait to watch my former teammates compete and hopefully bring the trophy back to Westwood...
.
And not too sure about the North Carolina vs Washington State game. UNC is traditionally better but Washington State has something to prove in their first time ever, in program history, making a College Cup. All teams are solid defensively so whoever puts a goal away first I believe will have a better chance of winning. Can't wait to watch!!!!"
.
---
---
---