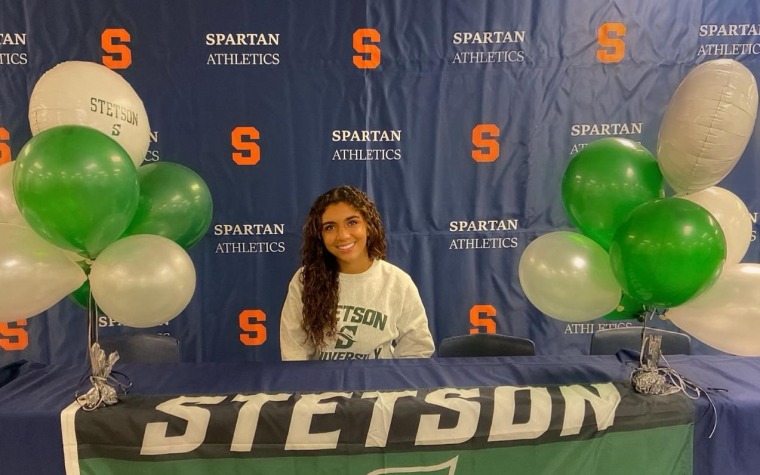 FUTBOL FEMENINO
martes, 19 de noviembre del 2019
La futbolista de la Selección de Puerto Rico, Gabriela Padilla, acaba de oficializar su compromiso de estudiante atleta con Stetson University, en DeLand, Florida.
Padilla es actualmente estudiante de 12mo grado en Seven Lakes High School en Katy, Texas, y viene de jugar con el Team PUR hace mes y medio en el Juan Ramón Loubriel de Bayamón, en las eliminatorias CONCACAF para los Juegos Olímpicos.
"I'm going to major in Health Sciences with the hope of attending P.A. school to become a Physician Assistant or Med school to become a Radiologist," nos contó Gabriela, cuyos padres son ambos de Ponce.
Padilla, quien juega en liga con el club Albion Hurricanes, está en medio de la emoción que provoca todo este proceso.
"The past two days have been a dream and a blessing. I get to see all my friends sign to their future schools and i get to sign to mine! After signing I realized that my life with Albion and Seven Lakes High School are slowly ending. There have been many great memories from both, and knowing it's coming to an end soon is bittersweet," expresó Gabriela.
La cotizada BoricUSA ha visitado dos veces el campus de Stetson University, por lo que ya está bastante familiarizada con lo que será, a partir de agosto 2020, su segundo hogar.
"The campus is beautiful with its greenery, nature, and perfect weather. The town around the campus is super cute filled with a bunch of restaurants and stores, not to mention the beach is just ten minutes away! Coach Chris and Coach Jordan are awesome people, they not only warmly welcomed me but took me in as one of their own players instantly!"
"As for the athletic facilities, they're great. The soccer field is grass, which i prefer, so its perfect. And the weight room is incredibly nice with high end equipment and gear. I know we're getting new bleachers as well as a scoreboard for next year so that's something to look forward to," relató la tejana puertorriqueña.
Otra buena noticia para ella es que la volvieron a contactar del programa de selecciones de la Federación Puertorriqueña de Fútbol.
"Yes! I just received a letter about the U-20 Puerto Rico World Cup training in December, I'm so excited and can't wait to be back with my friends on the field again.
Hatters GOAL!!! Lily Truong with the unbelievable diving header off of the pass from Maggie Struble! #SCTop10, you watching? Stetson leads, 1-0. pic.twitter.com/fHePIlxwdV

— Stetson WSoccer (@StetsonWSoccer) October 27, 2019
What a goal pic.twitter.com/8nX3tqalyY

— Stetson WSoccer (@StetsonWSoccer) October 27, 2019
.
---
---
---