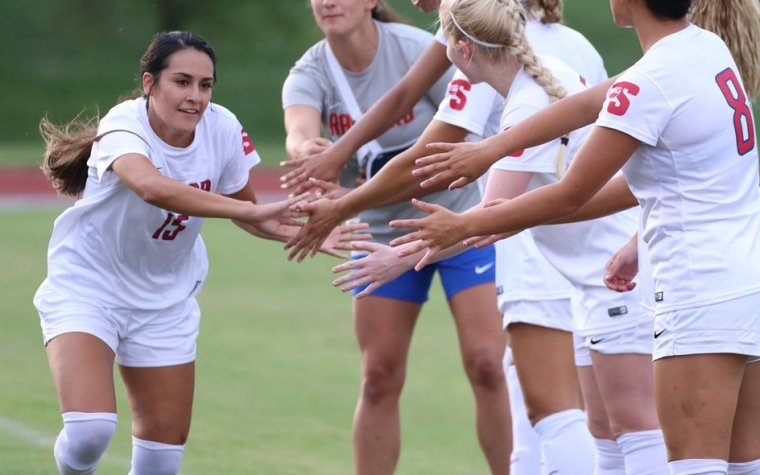 FUTBOL FEMENINO
miércoles, 23 de octubre del 2019
FOTOS (Radford University)
Una de las jugadoras importadas que ya está en Mayagüez entrenando con los colores del club Puerto Rico Sol para la recién comenzada temporada de Fútbol Superior Femenino de la Liga Puerto Rico es Jasmine Casarez, Medio Campo de 5'7 de estatura, estadounidense de raíces mexicanas.
Jasmine estudió y jugó soccer NCAA en Radford University, en Virginia, perteneciente a la Big South Conference. De allí se graduó en mayo 2018.
Casarez es natural de Moreno Valley, California. Sus padres también son californianos, pero sus abuelos son mexicanos.
"My grandparents from my mother's side are from Jalisco, MX, and my grandparents from my father's side are from Zacatecas," confirmó Jasmine a QuePalo.com
Dicho eso, ella es elegible, por ser nieta de mexicanos, para jugar FIFA con la Tricolor..
"When I was in middle school I tried out for the younger Mexican national team U-15 and made the team but ended up not being able to go because of family matters," nos relató Casarez, quien previo a sus años colegiales jugó fútbol para el Legends FC y para su escuela superior Canyon Springs High School en California.
882240495156463
on
piZap.com
«« HÉCTOR VÁZQUEZ MUÑIZ, QuePalo.com »»
How did Puerto Rico Sol approach you to come and play for them?
» JASMINE CASAREZ, Puerto Rico Sol «
"After talking to Coach Shek on the phone and through via email about Sol and continuing my soccer career in Puerto Rico with Sol I knew that this was an amazing opportunity I had to take. I am extremely grateful for it."
«« HVM »»
How meaningful is this opportunity for you?
» JASMINE CASAREZ «
"I am beyond thankful to have the opportunity to play for Puerto Rico Sol. This opportunity has allowed me to continue my soccer career and receive high-level training and feedback to help me improve as a player from experienced and great coaching staff!. I am really looking forward to this upcoming season."
882240495156463
on
piZap.com
«« HVM »»
After ending your NCAA career at Radford on may 2018, where have you being playing?
» JASMINE CASAREZ «
"After ending my NCAA career at Radford University, I went back home to California after graduating in May and played for SoCal Union in the Women's Premier Soccer League (WPSL)."
«« HVM »»
What's your favorite position (Def, MF, Fwd)
» JASMINE CASAREZ «
"My favorite position would definitely be Midfield, I played in the midfield all four years at Radford University."
«« HVM »»
"After a few days in Mayagüez, Puerto Rico, home of the Sol, what's your impression about the stadium, your teammates, the coaching staff?
» JASMINE CASAREZ «
"I have really been enjoying my time here in Puerto Rico these past few days. The stadium is beautiful, my teammates have been very welcoming and fun to be around, and the coaches have been very helpful throughout this whole process."
[ Rest. SABOR DE MÉXICO @ Camino Alejandrino en Guaynabo, y Lomas Verdes en Bayamón ]
PR Sol no jugó en la 1ra fecha, y este fin de semana tiene Bye, de manera que su estreno será para el 1er wikén de noviembre.
882240495156463
on
piZap.com
.
---
---
---