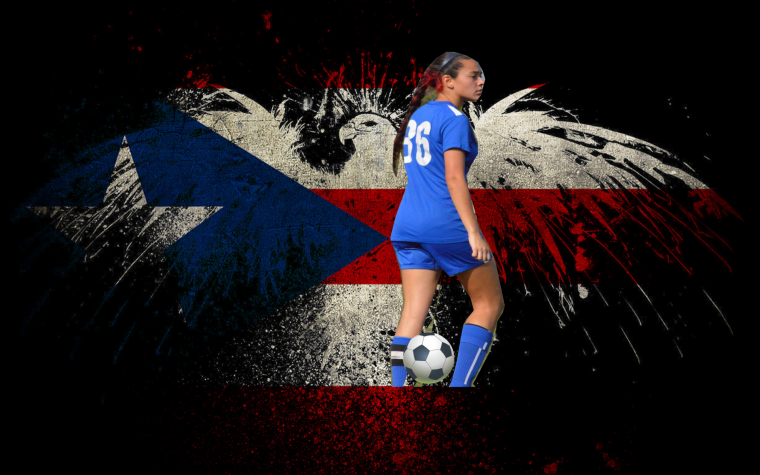 FUTBOL FEMENINO
miércoles, 12 de julio del 2017
JoAnnie Ramos en una de las 10 jugadoras puertorriqueñas radicadas en los Estados Unidos que acaban de ser seleccionadas entre las 20 futbolistas que representarán a Puerto Rico en la 1ra fase de las eliminatorias del Caribe de la CONCACAF para la Copa Mundial FIFA U-20 Femenina en Francia 2018.
JoAnnie, nacida en Ponce en diciembre 28 de 1998, vive en Houston, Texas con sus padres, donde se ha desarrollado con grandes dotes en el fútbol.
"Quedé desempleado a finales del '99, y luego de unos meses de búsqueda de trabajo en la Isla, sin éxito, decidimos dar el brinco", nos explicó el padre de JoAnnie, el ponceño Jorge L. Ramos, quien primero se mudó a Florida en 2000, y desde 2005 está viviendo con su familia íntima en Houston, Texas.
on
piZap.com
NuestraSelePR Sub-20 Femenina estará compitiendo del 19 - 23 de corriente mes en Santo Domingo, República Dominicana en el mismo grupo que Bonaire, Antigua & Barbuda y las dominicanas. El mejor de los 4 obtendrá el pase a la 2da parada clasificatoria CONCACAF en noviembre, en St.Kitts.
on
piZap.com
El papá de JoAnnie llegó a realizar gestiones para que la Federación Puertorriqueña de Fútbol (FPF) supiera de la elegibilidad e interés de su hija, pero sin éxito.
"Hace como dos años, cuando Jo cualificaba para el equipo de U-17, entré al website de la Federación (FPF) y envié un email a una de las personas que estaba a cargo, y le hable de Jo y su interés en representar la isla... Nunca recibí respuesta, y ahí lo dejé", dijo el Sr. Ramos.
Todo cambió este año con la llegada del nuevo coach nacional femenino, Shek Borkowski...
Ahora los invito a conocer más de esta chica ponceña y tejana, futbolista criada y desarrollada en E.U, pero con una pasión y compromiso genuino para con el equipo nacional de Puerto Rico... Esa patria que le corre en su sangre a JoAnnie Ramos Alemán...
on
piZap.com
== HÉCTOR VÁZQUEZ MUÑIZ, QuePalo.com ==
¿Desde qué edad estás jugando soccer... Y qué posición juegas?
JoANNIE RAMOS, PUR WNT
"I've been playing soccer since I was 4 years old. I've played other sports but never pursued them like I did soccer...
I play midfield, and I used to play defense".
== HVM ==
¿Desde cuándo vienes pensando con la idea de, algún día, hacer el Puerto Rico Woman's National Team?
JoANNIE RAMOS
"My father emailed the Federation a couple years ago, but never got a response...
Earlier this year, my Albion club (Texas) coach, Danny Hill, asked me if I was Puerto Rican, and if i was interested in the opportunity. I said yes, and he gave Shek my information. Since then I had been hoping I would have this honor".
on
piZap.com
== HVM ==
¿Cuál fue tu reacción al recibir la carta de que has sido seleccionada para el TeamPUR?
JoANNIE RAMOS
"I was beyond excited and sort of stunned, because it's such an honor to be able to represent where you come from. My mom started crying and my dad was freaking out. It was just a proud moment for the whole family".
== HVM ==
¿Qué es lo más que te gusta de los sistemas de entrenamiento y juego que tiene el coach Shek Borkowski?
JoANNIE RAMOS
"I like how he is big on passing the ball around the other team, and not forcing the play to keep possession. It gets the midfield more involved in the game rather than defense just hitting it over the top".
on
piZap.com
== HVM ==
¿Quiénes son tus 'role models' en el soccer femenino internacional?
JoANNIE RAMOS
"I am always watching women's soccer, whether it be professional or international. Some of my favorite players are Lauren Holiday (but she is retired now) and Kealia Ohai (Houston Dash, de la National Women's Soccer League en USA)".
on
piZap.com
== HVM ==
¿Qué vas a estudiar en University of Southern Mississippi.. Y qué te motiva ir a esa universidad sobre otras opciones?
JoANNIE RAMOS
"I'm going to study Nursing. I chose Southern Miss' for several reasons. I wanted to go out of state, for sure so, I was excited for the opportunity from the start. The school offers my major and other majors i'm interested in, in case I decide to change mine...
I fell in love with the campus the second we pulled up, because it was southern and just what I pictured of a college...
One of the biggest reason was the coach. Coach Mo cares about his players a lot, both on and off the field, and that was very influential in my decision".
on
piZap.com
== HVM ==
¿Tus logros y victorias más importantes en el club Albion Hurricanes de Houston, y en tu escuela Tompkins High School?
JoANNIE RAMOS
"My most important accomplishment in Albion would be being on the ECNL team (Elite Clubs National League) for all 5 years, and making national playoffs for 2 of those years...
My most important for high school are quite a few! My senior year, my team made it all the way to the state championship in only our 3rd year as a varsity team, because the school is basically brand new. In that year I was recognized as a Scholar Athlete, 2nd Team All-State, 1st Team All District, All-State Tournament Team, and I was selected to play in the Seniors All Star Game. I was also selected as the team MVP my Junior and Senior years".
== HVM ==
En febrero del año pasado, el Puerto Rico WNT jugó por primera vez vs US WNT (Hope Solo, Alex Morgan, Crystal Dunn, Carli Lloyd, Malory Pugh). Eso fue el Olympic Qualifier en Frisco, Texas. ¿Pudiste verlo o al menos estar al tanto? ¿A quién le ibas? :)
JoANNIE RAMOS
"We watched it on TV. Even though Puerto Rico was the underdog team, I was rooting for them!!
on
piZap.com
"¡Oh sí!... A medida que Jo iba creciendo se le hablaba de temas como música, costumbres, comida, deportes puertorriqueños... Siempre los mantuvimos, a ella y su hermano, conscientes de su origen, de dónde venimos, y el orgullo de ser de donde somos", concluyó la entrevista don Jorge Ramos.
FOTOS Suministradas
---
---
---