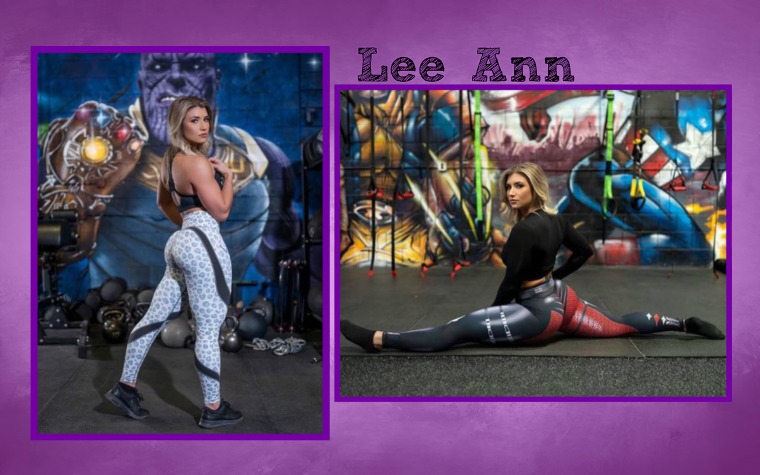 FITNESS FEMENINO
lunes, 20 de mayo del 2019
Lee Ann Schaffer, de Philadelphia, Pennsylvania, es una Fitness Model actualizada en el mundo cinematográfico y los súper héroes. Su rostro y físico es una mezcla de Black Widow y Captain Marvel. Además, a ella le encanta ayudar al prójimo.
En uno de sus sesiones fotográficas como Fitness Model utilizó de fondo varios artes relacionados al estreno de 'Avengers: EndGame', fotos que han sido virales en las redes sociales.
Lee Ann tiene una base académica en ciencias, enfermería y estudios liberales.
Ella es el talento promocional de una marca de ropa deportiva, y al momento de entrenar o enajenarse lo hace con la música de los reguetoneros boricuas. Sencillamente, ¡¡Lee Ann es loca con Ozuna!!
882240495156463
on
piZap.com
«« HÉCTOR VÁZQUEZ MUÑIZ, QuePalo.com »»
What do you do for living?
» LEE ANN SCHAFFER, Fitness Model «
"Currently I am a Chemist / Lab Technician and have been for 7 years. I also work at a gun store/ range some week nights as well as a bottle server on weekends at a club in the city. I also do work and photoshoots for an athletic apparel clothing line called Violate the Dress Code.
882240495156463
on
piZap.com
[NUTRITION WORLD, @ Manatí, Hatillo y Trujillo Alto]
«« HVM »»
What are your goals as a Fitness Model and Influencer?
» LEE ANN SCHAFFER «
"I have been blessed with an athletic physique, so shooting for a fitness apparel company seemed appropriate. I do hope to find some sort of direction soon.. some sort of niche. Photoshoots are cool and all.. but my social media presence is nothing of who I am in real life. I'm an introverted weirdo who loves traveling, dancing alone, and meeting new people. I just want to experience new things and find the direction I'm meant to be in and my following on social media has somewhat opened up opportunities like that for me..
I love being able to help people as well so maybe my profile will catch the attention of the right person and such exposure will make everything fall in place."
«« HVM »»
Thick thighs!! Tell me how you can get such a strong and big legs. What kind of exercise and machines do you do for your quadriceps, hamstrings and glutes?
» LEE ANN SCHAFFER «
"Oh the thick thigh trademark of mine. Haha! So much of my build is due to genetics, but I also accredit their tone from playing sports growing up such as soccer, softball (catcher), and volleyball plus anything else I could play at the time. In the past few years, to keep up with my exercise, I really just try to get my HIIT workouts in and lift..
I'm going to start aiming for glutes / legs three times a week so we will see what progress I make there.. My quads are massive and I personally want them to slim down so I do a lot of squat variations and glute / hamstring focused exercises like hip thrusts and deadlifts. I avoid heavy squats at a rack altogether because I have a L4, L5 vertebrae fracture. But honestly, the key to muscle growth for me has been a muscle mind connection in combination with proper diet and stretching/ warm-up prior."
«« HVM »»
So you like Ozuna? That means you like Puerto Rican Reggaeton. Is it your music for the gym?
» LEE ANN SCHAFFER «
"My favorite question.. I LOVE Ozuna. I have connected with his music on such a deep level the past few years and it's such a weird thing to explain since Spanish isn't a first or second language of mine. His voice gets me emotional hahah! I've traveled across the country alone just to see one of his concerts which led to the opportunity to do so again back in Philly. But yes, I absolutely love all types of PR reggaeton and such music...
My favorite artist list goes on and on... Ozuna, Bad Bunny, J Balvin, Wisin y Yandel, Daddy Yankee, Brytiago, Darell, El Alfa, Lyanno, Alex Rose, Jhay Cortez, Brray, Bryant Myers, Farruko, Noriel, Rauw Alejandro, Becky G, Rosalía, Paloma Mami, Paulo Londra, Justin Quiles, Nicky Jam (who I've talked to quite a bit), and the list continues.. It's really all I listen to. In the gym, outside the gym, car rides."
«« HVM »»
Is it true, the more exercise, the better the sex?
» LEE ANN SCHAFFER «
"I'm going to say yes.. It has everything to do with self-confidence and when you keep on your grind in the gym and being physically in shape, endurance wise even, it really does help in that department of life."
[Rest. SABOR DE MÉXICO @ Camino Alejandrino, Guaynabo, y Lomas Verdes, Bayamón]
«« HVM »»
Where do you see yourself in the Fitness business in 5 years?
» LEE ANN SCHAFFER «
"Wow.. scary thought.. I'll be 31 in 5 years.. well I hope to be that fit mom haha. But I also hope to continue to be someone who is an outlet for males and females looking for fitness advice and continue to be an inspiration/ motivator because as I mentioned..,
I love helping people and when I meet people online and in person who tell me that they admire my build and ask for advice, it makes me feel really great about myself being able to offer my knowledge to help them grow as well. I just want to make people happy and love who they are.. so if I can do that for anyone, that's where I want to be. "
882240495156463
on
piZap.com
«« HVM »»
9. When you see yourself at the mirror, what do you see?
» LEE ANN SCHAFFER «
"I'd love to lie about this one but I won't. Self-image for me is and always has been a huge struggle. It doesn't matter how much attention I receive from both males and females.. how many compliments I receive.. What I see in the mirror doesn't make sense...
I always find things I don't like about myself.. and I tear myself apart daily because of it. It's not attractive.. Confidence is. Humble confidence is truly beautiful and I really try to make an effort to accept who I am and how I look because when you're always looking for problems, you're going to find them.. when you're always looking to be better, who you are now isn't ever going to be enough Aesthetics fade...
There will always be someone more attractive in someone else's eyes. But like I always say when someone asks what my type is.. it ALWAYS has to do with personality. I never really am able to offer a physical description because I don't care how good someone looks because how we connect is everything.. how you treat and respect others.. I mean yes, I have to be physically attracted to them but at the end of the day, who someone is on the inside and their humble confidence is all that matters. And that right there is what I want to see in the mirror. My beautiful ability to see myself for how I see others..
I want to see through the person I'm looking at in the mirror and love and be proud of every ounce. I look at someone else with the same "flaws" that I get disgusted by seeing on myself and when I see it on them, I don't see it as unattractive whatsoever. It's bizarre. I realize I just have to find peace with myself."
---
---
---
Scroll