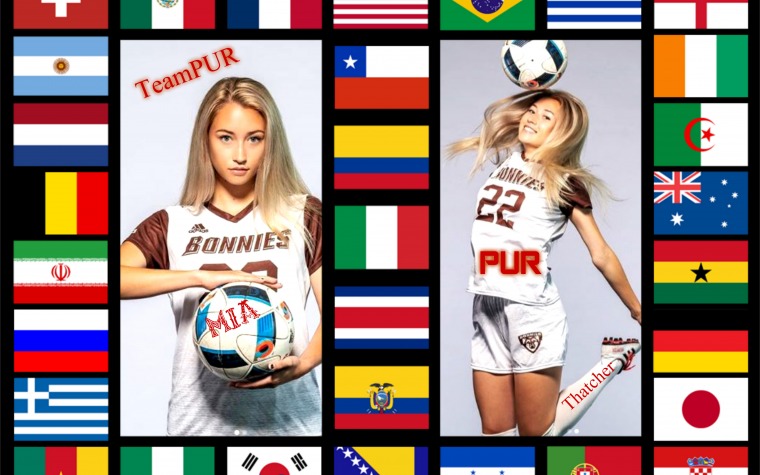 FUTBOL FEMENINO
lunes, 03 de diciembre del 2018
Puerto Rico estuvo muy bien representado esta primavera en el fútbol femenino de 1ra división en la NCAA por una Freshman de St. Bonaventure University -en 'up state' New York- de la muy competida Atlantic 10 Conference.
Mia Thatcher Ortiz es su nombre. Ella es natural de New Albany, Ohio, pero tiene sangre boricua de parte de madre. A su vez, sus bisabuelos paternos eran alemanes.
Gracias al 'scouting' del ex seleccionador de FutFem de Puerto Rico, Shek Borkowski, Thatcher Ortiz ya es parte del programa nacional de NuestraSelePR. Es una de las integrantes del banco de talento de la pre selección U-20 del TeamPUR.
Mia acaba de concluir su temporada colegial de estreno en su primer semestre en St. Bonaventure.
FOTO: Mia junto a sus padres
«« HÉCTOR VÁZQUEZ MUÑIZ, QuePalo.com »»
Where is your mother from?
» MIA THATCHER ORTIZ, St. Bonaventure University Soccer / TeamPUR U-20 «
"My mom (Angela Ortiz) is from Caguas, and said she lived in a barrio in her early years. Her father was Angel Luis Ortiz Medina. He was the executive director of worker's compensation in Caguas and Humacao. Her mother was born in San Lorenzo, in the country."
«« HVM »»
How strong is your Puerto Rican heritage?
» MIA THATCHER ORTIZ «
"My mother is very proud of her island and taught me to love everything about our culture. The music, the food, the beauty of the island, the history, and of course the traditions...
Every time we go to Puerto Rico my mother takes me to a different part of the island to show me all the awesome places. From surfing in Rincon, zip lining Toro Verde, cave tubing in Utuado, the bioluminescent bay in Fajardo, the rain forest, beaches, the light house in the southwest point, the Taino Park, and so many other places. While they are fun trips my mom and dad make those trips both educational and inspirational and connects me with my heritage...
My mom always tells me to call upon the Taína warrior inside me when I need extra confidence. This is my connection to the island and I'm the one that would be honored to play and privileged to play for Puerto Rico."
«« HVM »»
When and how did your parents know that you can play for Puerto Rico? How did Shek Borkowski get in contact with you?
» MIA THATCHER ORTIZ «
"While at a university ID camp, I learned about the opportunity and that I qualified since my mother was Puerto Rican and I was half Puerto Rican. I met coach Shek last June in Puerto Rico when I came down to try out for the team. I later got invited to the PR WNT U-20 select team group chat and continued my conversation with coach Shek there."
FOTO: Mia (izquierda) cuando vino a Puerto Rico a 'try outs' para Selección U-20 en junio 2017
«« HVM »»
How special has been for you and your family this opportunity to train and been part of Puerto Rico's U-20 WNT?
» MIA THATCHER ORTIZ «
"Well for my mother, of course, crazy special. She tells me the story of her putting my feet in the sand and water in Luquillo beach when I was 4 months old and telling me, 'This is your island'...
My abuela is also so excited. And my uncle and his family in Puerto Rico now are paying attention to soccer. They only liked the 3 B's...baseball, baskeball, and boxing. So I'm glad that he now asks questions about "futbol" and is proud of me too...
For me, I loved every minute of it. The first day was difficult and I found it a challenge to adjust to the hotter climate. Everyday I continued to do better, make connections on the field. There was a lot of talent there, and the older members were very helpful as were the trainers there. More importantly, soccer is such a universal language that it broke down any communication barriers and at the end, I just had a great time."
«« HVM »»
Were you aware of what happened in Puerto Rico with Hurricane María last September 2017?
» MIA THATCHER ORTIZ «
"Yes, I have family that lives in Puerto Rico and my mom is close to her brother. He did not have electricity for 5 months! My cousins didn't have school for about 2 months...
My mom was continually upset and making calls to different organizations and donating to some of the rebuild efforts. She was more upset that her brother. My uncle and his wife never complained. Their attitude was amazing. She sent them gas containers because they kept being sold out at the stores."
«« HVM »»
How was your High School and club soccer career?
» MIA THATCHER ORTIZ «
I go to New Albany High School in New Albany, Ohio. Soccer is very big in Ohio. I've been fortunate to have played varsity all 4 years of my high school team and able to help capture an Ohio Capital Conference championship during my time here.
I play for Classics Eagles. My club team is very competitive and we have such great talent!! We win a majority of our showcases, and won 2nd in the state last year. The team is currently 102 in the National Team Rankings.
«« HVM »»
What position do you mostly play ?
» MIA THATCHER ORTIZ «
"I can play anywhere I am needed. I like to use my speed and attack down the line so I find that I am very good at outside midfielder or outside forward. I like to use my speed to find through balls and beat the last defense to goal. I also will set up my team by beating the last defender and crossing the ball over for the center strikers."
«« HVM »»
Tell me about choosing St. Bonaventure University.
» MIA THATCHER ORTIZ «
"Coach Brdarski and I met in Puerto Rico while I was trying out for the National team. He pulled me aside and worked with me one on one and I started learning tactically from him. I was looking at other schools but after working with him and his style of coaching I visited the campus. I liked that it was out of state as I always keep trying to branch out to new challenges...
I also liked that it was small but big on spirit and pride! It's Catholic so my abuela is overjoyed...
As for athletics, it's a NCAA D1 athletics so my dad is happy that I'll get to see good soccer competition along the east coast.
VIDEO Vaya manera de terminar un partido. Gol de Emily Foltz, St. Bonaventure
Start your weekend right by playing Emily Foltz's game-winning-goal on ♾ loop! #Unfurl pic.twitter.com/VCYi57OENi

— Bonnies Women's Soccer (@BonniesWSoccer) October 19, 2018
.
---
---
---