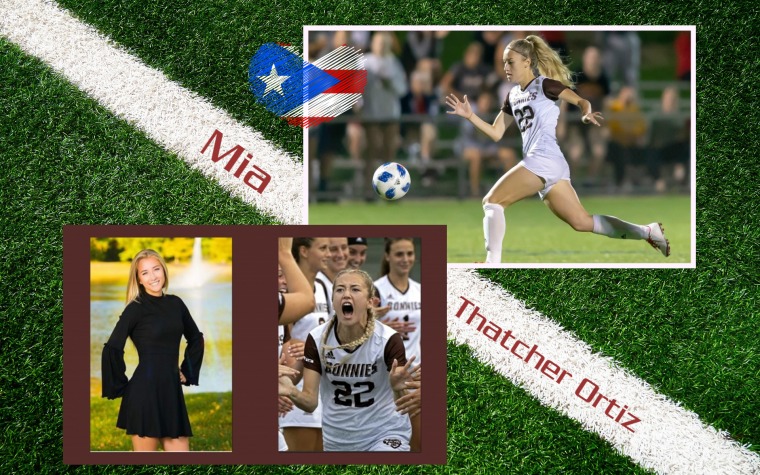 FUTBOL FEMENINO
lunes, 23 de septiembre del 2019
FOTOS (SBU Athletics)
Mia Thatcher Ortiz, cuya madre es de Caguas, es una de las jugadoras que viajaron desde los Estados Unidos para los entrenamientos de la pre Selección de Puerto Rico de Fútbol Femenino. La meta es hacer el corte final para representar al onceno boricua en el pre Olímpico ahora en octubre.
Mia y otras 12 futbolistas recibieron permiso de sus universidades y escuelas superiores para viajar a la Isla donde están acuarteladas en el Albergue Olímpico en Salinas junto a otras 11 jugadoras residentes en Puerto Rico, bajo la dirección del nuevo coach nacional, Carlos Parra.
Veinte harán el corte final.
882240495156463
on
piZap.com
"It's going super well I am so excited to be here I love my island. The training is going great there is amazing talent that this island has I'm honored to be training with them," manifestó a QuePalo.com, Mia Thatcher Ortiz.
"So far so good with coach. He gives very straight direction and knows what he wants. The teammates have been very friendly and competitive," añadió.
FOTO IG: St. Bonaventure Women's Soccer - Mia Thatcher
En la NCAA, Mia es Sophomore en la universidad de Saint Bonaventure, en New York.
"We have been winning more than last year. We beat University of Buffalo which was a huge accomplishment for us, and our freshman are looking good as well," destacó Thatcher.
882240495156463
on
piZap.com
El cuerpo técnico colegial de Mia no tuvo reparos en darle luz verde para que viniera a Puerto Rico, a pesar de estar en plena temporada universitaria.
"This is a once in a lifetime chance, and it can open the door for future opportunities for her. Our entire St. Bonaventure University Soccer Family is supporting Mia and her dreams of wearing the colors of Puerto Rico," aseguró el head coach, Steve Brdarski, en declaraciones para la página web de la institución.
882240495156463
on
piZap.com
Puerto Rico jugará la primera fase regional del Pre Olímpico de CONCACAF en Haití, donde enfrentará a Surinam el 5 de octubre, y a las haitianas el día 7.
FOTO IG: Equipo High School, New Albany Eagles
---
---
---