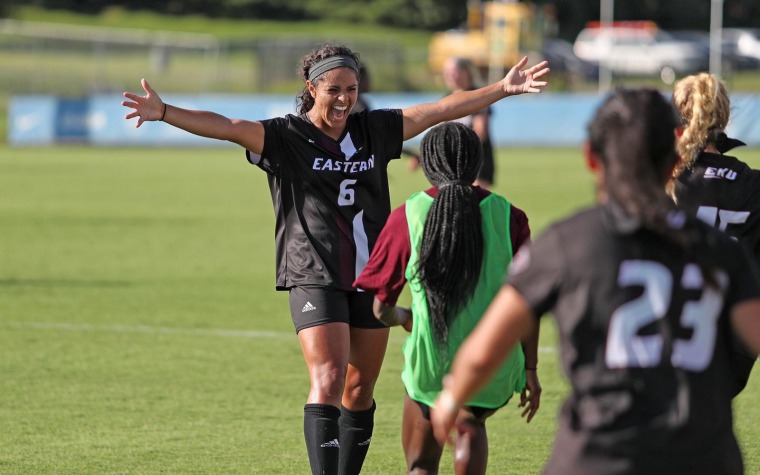 FUTBOL FEMENINO
miércoles, 05 de junio del 2019
La excepcional futbolista universitaria, Mónica Ríos, es una de las jugadoras criadas y desarrolladas en Estados Unidos que hará su estreno con la Selección Nacional de Fútbol Femenino de Puerto Rico.
La joven ponceña, cuyo fútbol lo aprendió y perfeccionó en las canchas del estado de Kentucky, es hija de boricuas que se marcharon a USA cuando la chica era una bebé de coche. Su papá, Francisco Ríos, jugó balompié en LAI, con los Tarzanes del Colegio y los Toritos de Cayey.
Mónica juega de Medio Campo, tanto de Contención como de perfil ofensivo.
882240495156463
on
piZap.com
.
«« HÉCTOR VÁZQUEZ MUÑIZ, QuePalo.com »»
What was your reaction after being chosen to the Puerto Rico WNT?
» MÓNICA RÍOS, TeamPUR FutFem «
"I am so excited and happy, I don't think it has really hit me yet that I made it. It's been my dream ever since I was a little girl to play for Puerto Rico's national team, so the fact that is happening is unbelievable and an honor!!"
882240495156463
on
piZap.com
«« HVM»»
I know your dad and mom are from the Island. Where were you born and raised?
» MÓNICA RÍOS «
"I was born in Ponce, and raised there for a little. We moved to Kentucky when I was 2 years old, and have been raised in Lexington, Kentucky ever since."
[Rest. SABOR DE MÉXICO @ Camino Alejandrino, Guaynabo, y Lomas Verdes, Bayamón]
«« HVM»»
Are you playing college soccer at Kentucky? What's your major?
» MÓNICA RÍOS «
"I am currently studying at Eastern Kentucky University (EKU), and gota degree in Nursing. I'm currently taking my redshirt year to play soccer."
882240495156463
on
piZap.com
«« HVM»»
Do you play club soccer, besides college?
» MÓNICA RÍOS «
"Well, at EKU soccer is pretty much year around, so I only play there and workout and practice on my own and with coaches here."
882240495156463
on
piZap.com
«« HVM»»
How was your experience with the TeamPUR girls, your new teammates now, when you came for the first time, last March, for the ID Camp?
» MÓNICA RÍOS «
"At first when I went to Puerto Rico to play with the girls at the camp I was really nervous because of both the level of play and also the language. The first day we played i was in awe with the players, their touches and creativeness...It made me really excited to be able to push myself to play at another level with them. So as the camp went on I got to get more and more comfortable with the players and actually play with them, meaning making different combinations and creating opportunities at goal..
Then language wise I thought I wasn't going to be able to communicate with them as well because I speak just a little Spanish, but I make a few errors here and there. but all the girls were very nice and welcoming. They made sure to explain things and help out if I had questions and by the end I was so comfortable with everyone and made some good friends. I'm really excited to go back and pick up where we left off and create more friendships."
882240495156463
on
piZap.com
.
.
---
---
---