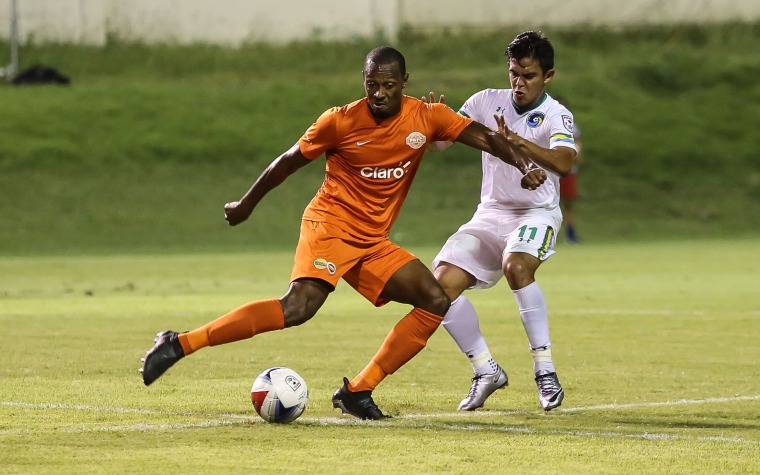 FUTBOL LOCAL
miércoles, 07 de septiembre del 2016
La NASL no toma acción con el caso de Chris Nurse

Luego de los reclamos del Puerto Rico FC tras los alegados comentarios racistas de parte de un jugador del FC Edmonton hacia el mediocampista Chris Nurse, la liga no tomará acción en contra del jugador del FC Edmonton.

Tras entrevistar a ambos jugadores y al árbitro central del partido la investigación quedó inconclusa luego de no hallar evidencia concreta.

Chris Nurse alegó insultos racistas de parte de un jugador del FC Edmonton en el partido disputado el domingo 28 de agosto.

Luego de que la decisión se hiciera pública, Chris Nurse reaccionó en sus redes sociales:

"Despite being notified a week ago that no action would be taken, the North American Soccer League (NASL) have officially released their statement this morning relating to the racial slur incident.

This is not the first time I have encountered racism in my life or in my career, so i have some experience dealing with it. It is however the first time I have encountered it in the 8 years I have played professional Soccer in North America.

Controversially, hopefully something positive can come out of this in terms of there needs to be systematic review on how these cases are handled in the future.

There needs to be clear education for all on what is acceptable language and what is unacceptable despite where you originate from so that ignorance can no longer be a plea of innocence.

There needs to be a protocol for referees when instances like these are bought to their attention both during and after games.

Lastly we need to stop hiding from Racism and pretending it does not exist. If we want to eradicate it, then "brushing it under the carpet" or "just moving on" does not have that effect.

I am 100% against racism towards any race, black, Chinese, asian or hispanics. In every ethnicity there will be good people and there will be bad people. We cannot stereotype a whole race simply because of the bad behaviour of a few.

Spending a lot of time in a Spanish speaking country has taught me that not always the term "negro" is used in a derogatory manner. But I also learned that there are times when YES it is used in a very derogatory, disrespectful and abusive manner, and this is the manner relating to this case.

Below are examples of 2 recent cases where players have been reprimanded for using inappropriate language, with many similarities to this case:

http://m.yorkpress.co.uk/news/14727835.Why_Scott_Flinders_was_found_guilty_of_racial_abuse_____the_FA__39_s_findings/

http://www.si.com/planet-futbol/2016/08/24/robbie-rogers-usl-slur-homophobic-richard-chaplow-orange-county

My fear is what's happens next time a situation like this arises? With the failure of the league to take action players are more likely to take matters into their own hands.

In closing let me thank every single person for the phone calls, and online support I have received. Some people who reached out had actually been in similar situations to mine, and chosen to remain silent in fear of repercussions, or how they might be viewed as a trouble maker, or a problem for simply defending themselves. Some friends discreetly showed support but chose to publicly remain silent. To me this magnified the reality that the issue still exists, but as time progressed the bigger issue is, how do we deal with it?

In instances like these you rely on close family, friends and those who have been in a similar situation for support.

I have to give a special mention to La Barra Naranja del PRFC, the fans of Puerto Rico Football Club who have been a pillar of strength and support over the last 10 days. The trust, loyalty and belief you have shown in me is far greater than anything I could return. With all my heart I salute you guys for standing alongside me. In difficult times you find out the true people around you, and you guys are a special group of fans.

Through all the support I learned times are changing and racism is a issue that people from all ethnicities, backgrounds and countries are willing to come together to effect change for the better. We no longer haver to "put up and shut up" and by speaking out and confronting the issue we can have a far greater positive impact on the future than by simply remaining silent.

Have a great week.
Dios Bendiga

Anti-Racsim and Hate Racism Stand Up To Racism Anti-racism ANTI RACISMO! No al RACISMO!!! Say no to racism"

Luego del partido del sábado, ante el Miami FC, Que Palo tuvo la oportunidad de hablar con Chris sobre el apoyo recibido de parte de la fanaticada tras el incidente:

"La fanaticada siempre ha sido fantástica conmigo desde la primera vez que jugué en Puerto Rico en el 2010, aún así siguieron dándome apoyo cuando me fui y regresé en el 2012 y me han estado dando un gran apoyo durante la pasada semana que ha sido una muy difícil para mí. Le tengo un gran respeto a la fanaticada y es un honor jugar para ellos cada sábado. "

Noche Tropical en el Loubriel

Esta noche el Puerto Rico FC recibe al Ottawa Fury que se encuentra noveno en la tabla de posiciones. Una victoria del Puerto Rico FC los colocaría a un punto del Fury y los sacaría del fondo de la tabla.

El Puerto Rico FC anunció que hoy será la noche tropical y de estudiantes en el Loubriel y habrán muchas sorpresas para los presentes antes y durante el partido. Llegale temprano al Loubriel para que disfrutes de los 'Food Trucks', el 'happy hours' y los concursos y juegos del fan fest en las afueras del estadio.
---
---
---