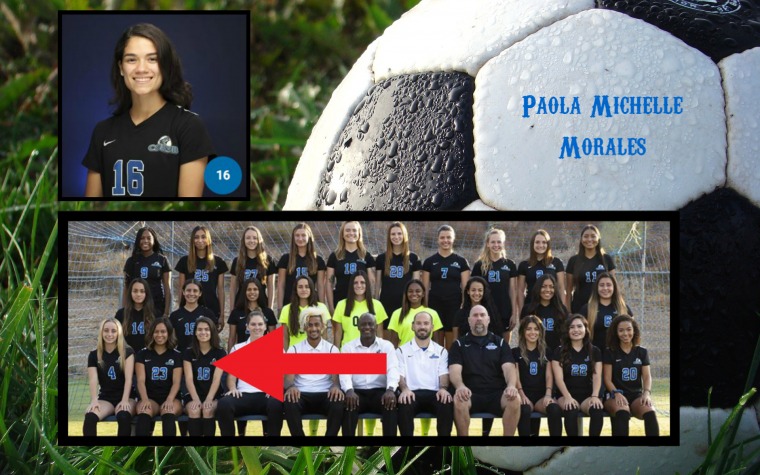 FUTBOL FEMENINO
martes, 10 de septiembre del 2019
Paola Michelle Morales es una joven futbolista y estudiante universitaria, natural de Yabucoa, quien actualmente juega y estudia en California State University, en San Bernardino (CSUSB).
Con los Coyotes de CSUSB acaba de comenzar su temporada Sophomore. Es Medio Campo, con versatilidad para jugar varias posiciones. Su onceno colegial juega en la California Collegiate Athletic Association (CCAA) en División 2 de la NCAA.
A nivel académico, Paola Michelle fue reconocida en su año Freshman con el Academic Year Dean's List, College of Natural Sciences 2018-19.
La talentosa atleta, ex integrante del programa yabucoeño del profe Lee Fonseca, y luego con las Caribbean Stars en Caguas, es una de las jugadoras puertorriqueñas establecidas en Estados Unidos que probablemente sea convocada para los entrenamientos del programa nacional de fútbol femenino en las próximas semanas. El nuevo coach, Carlos Parra, está en el proceso de establecer una pre selección para de ahí hacer el corte que representará a Puerto Rico en el Clasificatorio Olímpico. Igualmente, en octubre, la categoría U-20 tendrá su torneo pre mundial. Paola tiene 19 años.
882240495156463
on
piZap.com
QuePalo.com contacó al director técnico de las Coyotes de CSUSB para que nos describiera qué tipo de jugadora es Paola Michelle Morales.
«« HÉCTOR VÁZQUEZ MUÑIZ, QuePalo.com »»
How can you describe Paola as a soccer player?
» LeBARON HOLLIMON, women's soccer head coach at California State University, San Bernardino «
"My best description of Paola as a soccer player is saying she is analogous to the worker bee in the bee world. She has a phenomenal work ethic and shows great desire to make up for any technical deficiencies by doing the hard work on both sides of the ball. Pao is a fierce competitor too. One of the best qualities I have witnessed in her is the courage with which she plays."
«« HVM »»
What can she brings to the Puerto Rico WNT?
» LeBARON HOLLIMON «
"As far as what Pao would bring to the PR WNT, I'd say she would bring a level of desire, commitment, and extremely high level of competitive tension required to play at that level. She has gaps in some of technical areas; however, she mitigates those well by having a incredible work ethic that is manifested immediately after a technical deficiency caused a breakdown in the play to go and work to win the ball back."
882240495156463
on
piZap.com
«« HVM »»
What's the most do you like of her on the field and as student athlete?
» LeBARON HOLLIMON «
"The thing I like the most about Pao on the field is her fierce competitive spirit. She wants to win and she puts herself about in ways that demonstrate that desire and sets the standard for how everyone else should be competing to win...
As a student athlete, the thing I like the most about her is her ability to time manage and prioritize things so that she meets the standards and requirements in her studies as well as those of a collegiate athlete in a high performing program. She basically manages two full time jobs, student requirements and athletic requirements, effectively to achieve maximum results. Pao is a 4.00 student! It is clear she is committed to excellence both in the classroom and on the soccer field. She is one of the top standard bearers in the program for this."
.
---
---
---