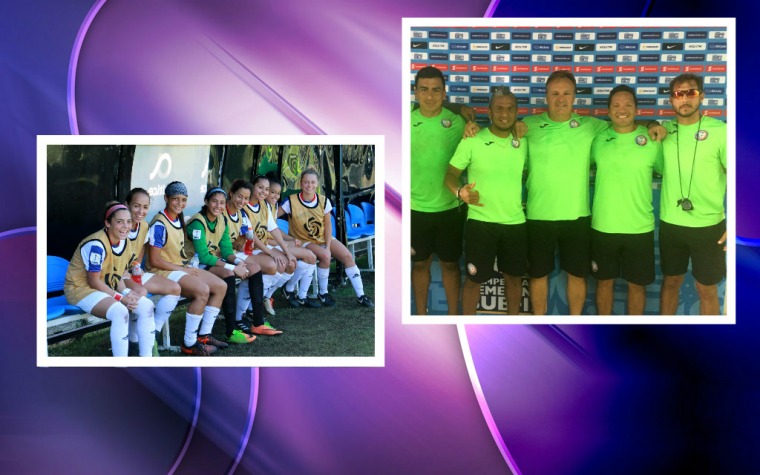 FUTBOL FEMENINO
jueves, 14 de junio del 2018
FOTOS (Christina Pascual Colón y Suministradas)
Hace dos semanas la Federación Puertorriqueña de Fútbol (FPF) decidió destituir a su dirigente del programa nacional femenino, el polaco estadounidense Shek Borkowski.
Dicha noticia provocó muchísimos rostros tristes e indignados entre las jugadoras y los padres de las mismas, a la vez que dejaba sonrisas y satisfacción entre algunos de los ejecutivos de la FPF.
El tiempo dirá si fue o no la decisión correcta.
El ahora ex seleccionador del FutFem puertorriqueño hace una tasación de la selecciones nacionales, juveniles y adulta, en exclusiva para los lectores de QuePalo.com, a la vez que ofrece una proyección de las mismas en su despedida del TeamPUR:.
FOTO (Christina Pascual Colón) PUR vs DOM, Mariana López
882240495156463
on
piZap.com
"Anyone who understands futbol, knows that coaches need time to instill their futbol ideas, culture and improve mindsets of their teams. A coach has to identify players who can perform under stress and deliver performances first, then results. My staff and I have identified a number of quality U15, U17, U20 and Superior players who needed time to integrate into teams. That's why you play international friendlies...
Overall we did very well. Working without any international preparation and with hurricane Maria disruptions, let's analyze the objective facts of what we did with the four selections...
The U15s are now the best in the Caribbean and fourth best in CONCACAF. This team has beaten a U18 club team from USA and is better than all Central American teams. Only USA, Canada and Mexico are stronger than our U15s. The team has 4 very experienced players from USA...
The team has 6 players who if they continue to develop and grow, have the potential of being CONCACAF level stars in the future (Karish Rivera, Carola Alvarez, Kaura Reyes, JLo Varada, Vero Correa, Marileana Pardo)...
The U17s finished 6th in the CONCACAF Championship, best finish EVER for any Puerto Rico team, men or women!
This team is on its way to doing very good things. Again, the team had no international matches but defeated university teams from USA, defeated all Puerto Rico universities, defeated the champion of the superior league - Criollas, defeated club teams from USA...
In the World Cup qualifying matches the team won 6 matches and lost 3. The three losses came to teams that have qualified for the World Cup, Haiti (twice) and Mexico...
U17: 6 wins, 3 losses, Goals: 25-19...
The U20s will be very special in the next World Cup cycle. It was a very young team last summer. 16 players will return for the next cycle and will dominate Caribbean opponents. Again, only USA, Canada and Mexico will be better.
U20s: 2 wins, 1 loss, Goals: 17-1...
The superior team went undefeated in the World Cup qualifying; 2 wins, 0 losses, 2 ties, Goals: 18-2. I was told that I am the only coach in Puerto Rico history not to lose a World Cup qualifier...
FOTO (Christina Pascual Colón) PUR vs DOM, Laura Suárez
882240495156463
on
piZap.com
Overall my World Cup qualifying record with all categories was 10 wins, 2 ties, 4 losses (3 of those 4 loses were to teams that qualified for the World Cup)...
Goals: 60-22
Winning % .667
I challenge anyone to show me a coach in the Caribbean, men or women, with .667 winning percentage in the World Cup qualifying matches...
All this WITHOUT playing any preparation international matches, not training for 3 months because of Maria, and cancellations every time it rained...
Keep in mind I had to buy my own training equipment because the FPF refused to pay for it. Scouting opponents? I paid my own travel expenses for that because the FPF would not...
FOTO (Christina Pascual Colón) PUR vs DOM, Mercedes Bauzá
882240495156463
on
piZap.com
To review:
- U15s is the best in the Caribbean and will finish top 4 in CONCACAF in August.
- U17s, 6th best in CONCACAF. Best finish ever!
- U20s next cycle, best in the Caribbean. Lost one game 0-1.
- Superior, undefeated in the World Cup qualifying...
Anyone who criticizes me and my staff either doesn't know futbol or has a hidden agenda. The people who worked with me every day, the players, will tell you that all age categories are better physically, technically and tactically. That's not even debatable. Anyone who thinks otherwise, I invite to contact USA, Canada, Mexico national team coaches and ask their opinions of my progress with Puerto Rico."
FOTO (Christina Pascual Colón) PUR vs DOM, Selimar Pagán
882240495156463
on
piZap.com
«» HÉCTOR VÁZQUEZ MUÑIZ, QuePalo.com
¿Cuánto potencial vez en el futuro del fútbol femenino boricua?
SHEK BORKOWSKI
"Without a doubt, the next World Cup cycle, the U17s, U20s and the Superiors will qualify for the World Cups...
The Superior team is very young, average age 22. They will be in their prime in 4 years. I expect the U-20s and U-17s to dominate the Caribbean competition. They will be very good and I will enjoy following their progress."
FOTO (Christina Pascual Colón) PUR vs DOM, Nicole Rodríguez
882240495156463
on
piZap.com
«» HVM
¿Luego de ser relevado por la FPF, qué planes tienes?
SHEK
"I'm on to my next project, Puerto Rico Sol FC. This club was started to give national team players a place to regularly train and play, and to work in futbol and earn money...
One of the challenges I had was that majority of Superior players missed at least 50% of practices because of school, work, travel cost etc. Players even had to pay for practice shirts!!!...
With Puerto Rico Sol I want to give players opportunity not to worry about money and to concentrate on futbol. This is something i put in my Puerto Rico Blueprint for Success when I applied for this job and everyone on the executive was supportive of this. it was one of the reasons I was hired."
«» HVM
¿De manera que los rumores de su participación con un nuevo club llamado Puerto Rico Sol eran ciertos?
SHEK
"I don't deal in rumors. The facts are, everything I did and do is for benefit of my players, teams and employers. I was frustrated with the lack of facilities for women's teams, lack of support. I tried to go out and find facilities where we can train. I tried to get international games. I tried to get sponsors...
All these things were presented to the FPF Executive Committee, and repeatedly approved. If anyone says otherwise, they are not interested in facts and truth."
FOTO (Christina Pascual Colón) PUR vs DOM, Paola Goyco (saque de banda), Nené Zaragoza (espalda) y coach Shek
882240495156463
on
piZap.com
«» HVM
¿Si el nuevo coach que nombre la FPF para sustituirte como seleccionador del programa femenino es alguien que conoces y aprecias, cuál sería tu consejo para él?
SHEK
"Advice: There is talent in Puerto Rico. Given time, all four age categories will be number 1 in the Caribbean and top 4 in CONCACAF.... work hard."
.
---
---
---