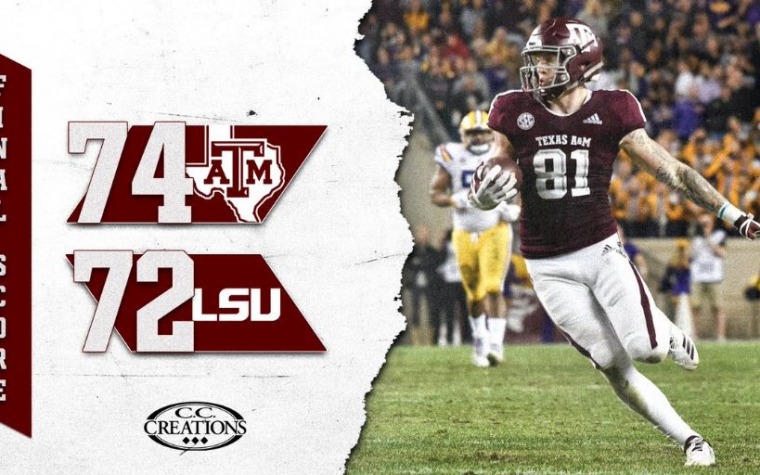 FOOTBALL COLEGIAL
domingo, 25 de noviembre del 2018
Luego de 5 horas de football NCAA en su máxima intensidad, y con un balance competitivo inimaginablemente parejo, el equipo de la universidad de Texas A&M derrotó 74-72 a Louisiana State University (LSU) en 7 overtimes.
Es decir, la #22 superó a la #7 en un juego histórico en el cual se anotaron entre ambos 146 puntos, y se marcaron 18 touchdowns.
Y todo ésto sucede en la misma semana en la que vimos un duelo de 54-51 en la NFL (Rams vs Chief)
What a scene after a 7-OVERTIME win for Texas A&M! pic.twitter.com/HserJMb9zm

— Sports Illustrated (@SInow) November 25, 2018
Texas A&M 74, LSU 72.

FINAL. pic.twitter.com/b0ESbyti9m

— Shehan Jeyarajah (@ShehanJeyarajah) November 25, 2018
Esta pudiera ser el TD más espectacular del maratón
ARE YOU SERIOUS, KENDRICK ROGERS???

An absolutely INSANE catch by the big Aggie sends Texas A&M to a 4th OT against LSU pic.twitter.com/jW0NXidGOl

— The Sports Quotient (@SportsQuotient) November 25, 2018
Por supuesto, fue un duelo que produjo récords
After an FBS-record 146 combined points and tying an FBS-record with 7 overtimes, it is finally over.

Texas A&M defeats LSU, 74-72.

That is more points than the Aggies basketball team has scored in 4 of 6 games this season. pic.twitter.com/RJIap8jpUU

— ESPN Stats & Info (@ESPNStatsInfo) November 25, 2018
LSU and Texas A&M fans right now.#LSUvsTAMU pic.twitter.com/avNT4igC8r

— AbyssWalker (@brasteen1) November 25, 2018
Y en otro juego colegial, el tackle del wikén Ouch!!
THIS HIT. pic.twitter.com/aXug23gF4x

— House of Highlights (@HoHighlights) November 25, 2018
Mientras, en Alabama, tuvieron que traer dos helicópteros para secar el terreno de juego
Alabama brought out 2 helicopters to dry off the field. pic.twitter.com/2Ei59xi4cw

— House of Highlights (@HoHighlights) November 25, 2018
---
---
---