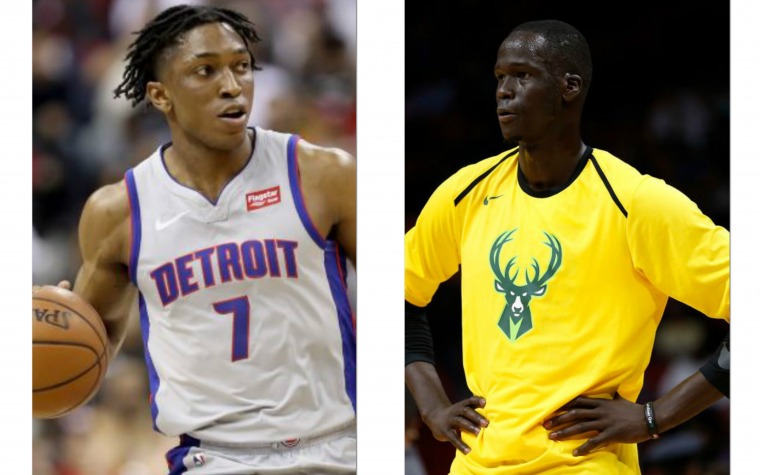 BASKETBALL NBA
miércoles, 06 de febrero del 2019
Llegó la esperada venta al pasillo.
Justo en el penúltima dia de la fecha límite de cambios, la NBA ha estado como un Cyber Monday en la internet.
Aquí les enumeramos los cambios realizados en las últimas horas:
BUCKS / PISTONS
Milwaukee recibe al alero Stanley Johnson. Detroit se lleva al centro Thon Maker..
A note: Thon Maker and Giannis Antetokounmpo are close friends. Their lockers are next to each other. After Maker's 5th straight DNP, Giannis said: "Thon is a great guy, great teammate. He wants to help the team and whenever I come out, sub out, he always talks to me."

— Malika Andrews (@malika_andrews) February 6, 2019
ROCKETS / KINGS / CAVS
Houston adquiere a Iman Shumpert; Alec Burks y un turno de 2da ronda terminan en Sacramento; y Brandon Knight y Marquese Chriss se unen a los Cavaliers..
.WIZARDS / BULLS
Washington se hace de Bobby Portis and Jabari Parker. A su vez, Otto Porter fue enviado a Chicago.
Odd deal. I like Portis. He's 23, gets buckets, plays hard. Wizards can give Portis more regular minutes than Chicago could behind Markkanen and Carter.

Porter is overpaid, but good. And it's not like the Bulls are signing anyone noteworthy until 2021, the summer Porter is up. https://t.co/Q2iPZfmbrS

— Kevin O'Connor (@KevinOConnorNBA) February 7, 2019
SUNS / HEAT
Phoenix hace un camio por Tyler Johnson y Wayne Ellington. En el mismo, Miami se queda con el delantero Ryan Anderson.
And there it is. Fully about tax/cap savings for Miami. Anderson will likely be waived this summer, if not earlier. https://t.co/ypVyHj8m64

— Keith Smith (@KeithSmithNBA) February 6, 2019
SIXERS / RAPTORS
Philadelphia adquiere al escolta Malachi Richardson y el turno de 2da ronda en 2022. Toronto sólo vendió, pues dinero es lo que reciben a cambio.
The luxury tax bill in Toronto will drop from $34.7M to $29.6M with the Malachi Richardson trade. Toronto is now down to 13 players and has 2 weeks to fill the roster spot. Expect the tax bill to increase slightly.

— Bobby Marks (@BobbyMarks42) February 6, 2019
.
---
---
---