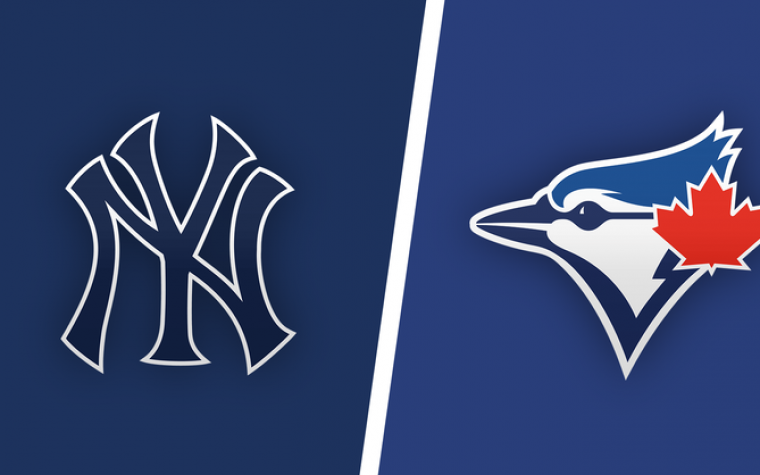 BASEBALL MLB
jueves, 01 de abril del 2021
Los Yankees fueron derrotados hoy por los visitantes Blue Jays de Toronto 3-2 en 10 innings.
New York ganaba 2-1 tras 5 entradas pero home run del dominicano Teoscar Hernández en el 6to lo empató a dos.
En la baja del 7mo episodio los Yankees llenaron las bases con 1 out pero Aaron Judge bateó para double play. A su vez, Giancarlo Stanton falló de 5-0 con 3 ponches.
El abridor anfitrión, Gerrit Cole hizo estupendo trabajo tras 5 entradas, 8 K y 86 lanzamientos. Por alguna razón el dirigente Boone lo trajo para la 6ta entrada, a pesar de ser su primera salida del año, y permitió el jonrón del empate.
Aquí un interesante recuento de las jugadas más importantes del partido:
Bernie Williams realizó de manera virtual el lanzamiento de la primera bola luego de la ceremonia del himno a cargo de una sargento del Army.
4-time World Series Champion and Yankee legend @bw51official delivers today's virtual ceremonial first pitch pic.twitter.com/6AOuA9H07J

— New York Yankees (@Yankees) April 1, 2021
Homerun de Gary Sanchez con uno abordo en el 2do inning
Get us going, Gary pic.twitter.com/yVCL7A0zL5

— New York Yankees (@Yankees) April 1, 2021
8 ponches para Garrit Cole
8 Ks for Cole on y pic.twitter.com/eI7yt3vAqV

— New York Yankees (@Yankees) April 1, 2021
Jonrón de 437 pies de Teoscar Hernández vs Cole en la 6ta entrada para empatar el juego 2-2.
OUR SILVER SLUGGER @TeoscarH DESTROYS our first homer of the season! pic.twitter.com/w8UZJRzhzw

— Toronto Blue Jays (@BlueJays) April 1, 2021
En el 7mo episodio Gary Sánchez pone fuera en intento de robo a Randal Grichuk
The Kraken's cannon. pic.twitter.com/qLmJfiLeAG

— New York Yankees (@Yankees) April 1, 2021
Baja del 7mo, los Yankees tienen bases llenas con 1 out y Aaron Judge al bate... Double Play!!
We get by with a little Phelps from our friends pic.twitter.com/bouMJnaOCb

— Toronto Blue Jays (@BlueJays) April 1, 2021
El batazo ganador de Randal Grichuk en la alta del 10mo
Grich in the CLUTCH

@RGrich15 pic.twitter.com/QvHBJWTzA2

— Toronto Blue Jays (@BlueJays) April 1, 2021
---
---
---