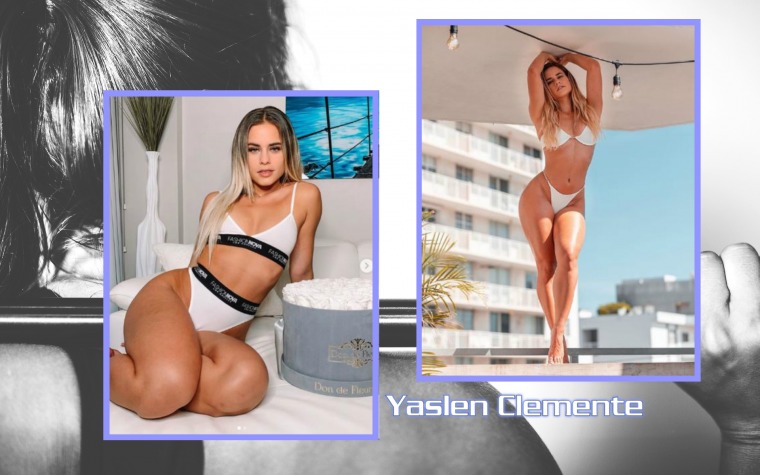 FITNESS FEMENINO
sábado, 12 de octubre del 2019
FOTOS (IG @yaslenxoxo)
Yaslen Clemente es una Fitness Model e Influencer de Miami, con 851 mil followers en Instagram. Sus padres son cubanos.
Actualmente estudia su año Senior en Florida International University (FIU), donde hace un bachillerato en Biología. A su vez está en el proceso de una certificación en Fitness & Nutrition. 'Time is key to success' es una de sus frases favoritas, sobre todo cuando se trata de gimnasio y el fitness.
Entre entrenamientos, sesiones fotográficas y estudios, Clemente sacó de su tiempo para responder las preguntas de QuePalo.com
882240495156463
on
piZap.com
«« QuePalo.com »»
How is your daily / weekly gym routine?
» YASLEN CLEMENTE «
"I train 5-6 days a week. I focus on lower body 3 times a week one day for hamstring, quads and glutes. The remaining days I incorporate full body, upper body, and ab works outs. At the time I am not doing any cardio because I am currently bulking, so when I do cardio It is only 5-10 minutes to warm up prior to weight lifting."
«« QuePalo.com »»
What kind of music and singer do you like the most to pump yourself for gym training?
» YASLEN CLEMENTE «
"I honestly listen to everything... haha!! But I love listening to reggaeton and salsa while at the gym. My current favorite song is Loco Contigo by J Balvin & Tyga"
«« QuePalo.com »»
What's your advice to a female gym junkie that wants to make Fitness Modeling and Coaching her professional job for living?
» YASLEN CLEMENTE «
"My best advice is to keep working towards your goals and never give up! Rome was not built in a day. It takes effort, self-love and lots of dedication! Time is key to success."
«« QuePalo.com »»
Who's your women's favorite athlete (from any sports), and your Fitness role model?
» YASLEN CLEMENTE, Fitness Model & Influencer «
"Michelle Lewin!! Honestly love that she is Hispanic. Her personality is one of a kind."
«« QuePalo.com »»
Where do you see yourself in the Fitness business 5 years forward?
» YASLEN CLEMENTE «
"I see myself as an online coach helping other women reach their fitness goals and guiding them every step of the way to a healthier lifestyle."
«« QuePalo.com »»
When you see yourself at a mirror, what do you see?
» YASLEN CLEMENTE «
"I see an ambitious, loving, thriving, passionate latina, hard-working, and "Says it as it is" type of gal."
Scroll